26 Apr 2023
Revolutionizing Insurance for a Better Customer Experience - A Look at ReMark's Digital Transformation Strategy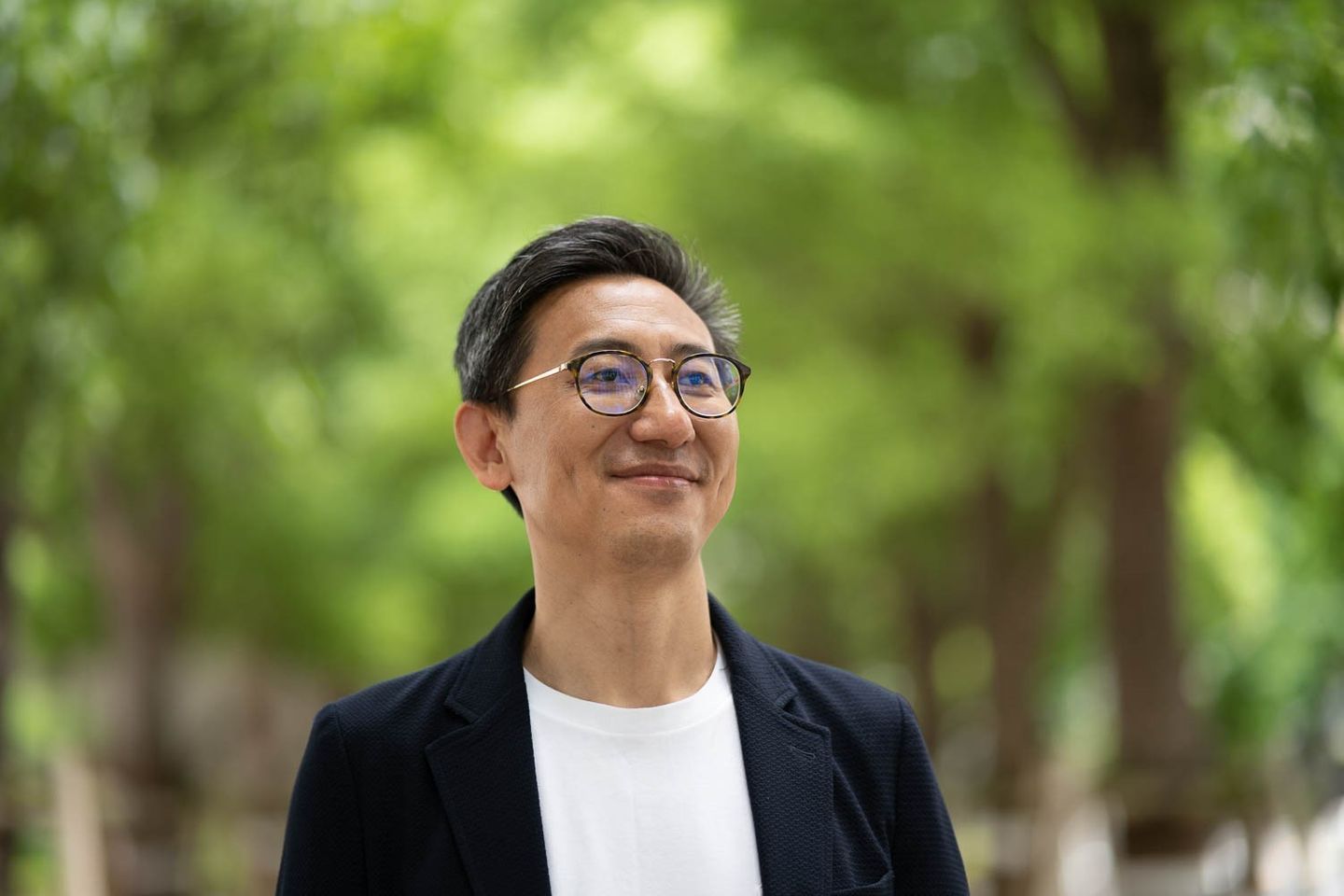 During our conversation with Gang Pei, the Head of North Asia at ReMark, he provided insights on his experience in digital transformation across the various traditional and highly regulated industries. He discussed how ReMark is simplifying access to cover and are matching the protection amount based on a policyholder's lifestyle to appeal to the younger generation in Japan. Furthermore, he delved deeper into how ReMark plans to stay ahead of the curve by utilising emerging technologies to enhance and deliver exceptional insurance experiences.
1. Could you tell us about your background and what influenced your career journey leading up to joining ReMark?
1. リマークに入社するまでの経歴と、キャリア形成に影響を与えたものについてお聞かせください。
Despite working in several industries - telecommunications, healthcare and pharma - all my jobs had one thing in common: digital transformation (DX). The industries I worked also shared a commonality – chiefly, that they are traditional and highly regulated.
Systems and processes are not easy to transform. When seeking to make progress within them, you need to deeply understand your business and the value technology can bring. In this way, the insurance industry was no different from others I had worked in. And to complement this experience, I had actually majored in insurance at university, with a focus on Statistics and Actuarial Science.
This unique background suited my current role well, and it is one of the reasons ReMark asked me to lead its North Asian activities, centred primarily around the Japanese market.
Drawing on prior experience, this was an exciting opportunity to transform ReMark's business model in a way which enabled our clients to leverage digital transformation to deliver on their business objectives and maximise their value.
通信、ヘルスケア、製薬など、いくつかの業界で働いていましたが、すべての仕事に共通していたのは、デジタルトランスフォーメーション(DX)の遂行でした。また私が働いてきた業界には、伝統的で厳しい規制があるという共通点もありました。
システムやプロセスを変革するのは容易ではありません。その中で前進しようとする際、自社のビジネスとテクノロジーがもたらす価値を深く理解する必要があります。このように、保険業界は、私がこれまで働いてきた他の業界と何ら変わりはありませんでした。また、私は大学で保険学を専攻し、統計学と保険数理学に重点を置いていたので、保険業界での経験に役立ちました。
このようなユニークな経歴があったからこそ、現在の職務に適しており、リマークから日本市場を中心とした北アジアでの活動のリーダーを任された理由の一つでもあります。
これまでの経験を生かし、デジタル・トランスフォーメーションを活用して保険会社などのお客様のビジネス目標を達成し、お客様の価値を最大化することを可能にするリマークのビジネスモデルの変革に携われることは非常に刺激的な機会となっています。
2. You previously mentioned at our ITC Asia Japan roadshow that "Insurance is not attractive enough for the young generation (in Japan)". Can you elaborate? What is ReMark doing to address this? 
2. 先日のITC Asia Japan roadshowで、「(日本では)若い世代にとって保険は十分に魅力的ではない」とおっしゃっていました。詳しくお聞かせください。また、リマークはそれに対してどのような取り組みをしているのでしょうか。
Sure. The results I shared at ITC Japan were drawn from our recent Global Consumer Study (GCS). They reveal that, despite Millennials and Gen Z becoming the main purchasers of insurance policies globally, in Japan things are different. Here, the Silent Generation are still the main purchasers of policies. Additionally, the survey revealed that 75% of Gen Z respondents in Japan said their attitudes towards risk and the value of insurance changed during Covid-19. This tells us that protection is on their minds, even though this trend may not fully be translated into purchases at this stage.
There is clearly an opportunity here. Digital native (Gen Z + Millennials) comprise about 30% of the total population in Japan. This is comparable to Malaysia's total population, and opens up huge business potential. Unlike older generations, who typically spent their entire careers in one company, younger generations may have a less linear professional career. From freelance jobs to gig economy roles, they may embrace a more flexible lifestyle. But at same time, we need to understand that this can come with greater uncertainty and may lead to a growing protection gap if not catered for properly. Unfortunately, traditional insurance does not align with this kind of lifestyle. You pay the fixed monthly premium and get cover; then if you stop your payments, your cover will stop. We saw this happen a great deal during the pandemic.
At ReMark, we are trying to answer this challenge by making insurance a part of people's daily life. We're simplifying access to cover and matching the protection amount based on a policyholder's lifestyle. We're making insurance more affordable and more flexible. 
ITC Japanでお話しした結果は、私たちが実施した最新版の世界消費者調査(GCS)から得られたものです。調査結果によると、世界ではミレニアル世代とZ世代が保険契約の主な加入者となっているにもかかわらず、日本では状況が異なっていることが明らかになりました。日本では、サイレント世代が依然として保険契約の主要な加入者であることが明らかになりました。さらに、この調査では、日本のZ世代の回答者の75%が、Covid-19でリスクや保険の価値に対する考え方が変化したと回答しています。このことは、現段階では加入にはいたっていないが、Z世代が保険に対する関心を持っているということを示しています。
ここには明白なチャンスがあります。デジタルネイティブ(Z世代+ミレニアル世代)は、日本の総人口の約30%を占めています。これはマレーシアの総人口に匹敵し、ビジネスの大きな可能性を秘めています。一般的に1つの会社でキャリアを積んできたこれまでの世代とは異なり、若者世代はあまり直線的でない職業キャリアを歩むかもしれません。フリーランスの仕事からギグエコノミーの役割まで、より柔軟なライフスタイルを受け入れるかもしれません。しかし、同時に、このことはより大きな不確実性を伴い、適切に対応しなければ保障ギャップの拡大につながる可能性があることを理解する必要があります。残念ながら、従来の保険はこのようなライフスタイルに対応しきれていません。毎月決まった保険料を支払って保障を受け、支払いを止めれば保障も止まってしまう。コロナ禍にも、このような事態が多く見られました。
リマークでは、保険をより身近なものに、つまり日常生活の一部とすることで、この課題に応えようと考えています。保険へのアクセスを簡素化し、保険契約者のライフスタイルに応じた保障額を設定します。私たちは、より手頃な価格で、より柔軟な保険にします。
3. How has ReMark utilised emerging technologies in the past? And how can these improve the customer experience?
3. ReMarkは過去にどのようにテクノロジーを活用してきたのでしょうか。また、これらはどのように顧客体験を向上させることができるのでしょうか。
ReMark is a global insurance marketing & tech consultancy. Over 38 years, we have conducted more than 12,000 insurance marketing campaigns in all mediums, from mail to mobile. During this time, we have grown our knowledge, insights, and methodologies in line with tech advancements.
Examples of this include developing the policy management system RaPid, our health & wellness engagement app Good Life (powered by SCOR's Biological Age Model BAM algorithm) and the AI disease prediction service Good Health. In fact, the Good Life app just won an iF Design Award for its UI/UX, and has just collected multiple Indigo Design Awards related to its innovation.
All ReMark's solutions are designed and targeted to provide the best consumer experience. And we continue to work with the modern tech advancements to provide better lifestyle insurance in Japan.
リマークは、グローバルな保険マーケティング、テック・コンサルタント会社です。38年以上にわたり、郵便物からスマホまで、あらゆる媒体で12,000件以上の保険マーケティング施策を実施してきました。この間、私たちはテクノロジーの進歩に合わせて、知識、知見、そして方法論を進化させてきました。
その例として、保険契約管理システム「RaPid」の開発、SCORの生物学的年齢モデルBAMアルゴリズムを搭載した健康増進アプリ「Good Life」、AI疾病予測サービス「Good Health」があります。実際、Good LifeアプリはそのUI/UXで国際的なデザイン賞であるiF デザイン賞を受賞したばかりで、またインディゴデザインアワード(Indigo Design Award)でも、その革新性に関連した複数の賞を受賞したところでした。
リマークのソリューションはすべて、最高の消費者体験を提供するために設計されています。そして私たちは、日本でより良いライフスタイル保険を提供するために、現代のテクノロジーの進歩に取り組み続けています。
4. Looking forward, how do you see the digital field evolving in the next 5-10 years? What are some imminent challenges and opportunities you foresee for the industry, and how will ReMark stay ahead of the curve?
4. 今後5‐10年の間に、デジタル分野はどのように進化していくとお考えですか?また業界にとって差し迫った課題と機会は何ですか?そしてReMarkはどのように先手を打っていくのでしょうか。
Going digital should not be a goal or objective. It is only a tool or a way to make business more efficient, a way to make customer's lives more convenient. Traditionally, insurance is a product highly reliant on face-to-face channels because it can at times be difficult and complex for consumers to understand. They struggle to select the right product, the right plan to fit their needs. However, this is where digitisation can be revolutionary.
I believed in a new type of insurance. Insurers need to provide products linked to people's lifestyle. Like SNS or EC, insurance has the potential to be more present in people's everyday lives. We should diversify distribution channels and meet people where they actually are, not where we assume they will be.
ReMark is always learning from the market through our Global Consumer Study as well as our various marketing campaigns. We continuously design digital solutions to provide the best insurance experience.
デジタル化は目標や目的であってはなりません。あくまでも、ビジネスを効率化し、お客様の生活を便利にするためのツールや方法です。従来、保険は対面販売に依存した商品が多く、消費者にとって理解するのが困難で複雑な場合がありました。消費者は、自分のニーズに合った適切な商品、適切なプランを選択するのに苦労しています。しかし、ここでデジタル化が革命的な効果を発揮するのです。
私は、新しい形の保険を信じています。保険会社は、人々のライフスタイルと連動した商品を提供する必要があります。SNSやECのように、保険はもっと人々の生活に密着した存在になる可能性があります。販売チャネルを多様化し、彼らに合うと想定したものではなく、実際に彼らに合わせることが必要です。
リマークは、世界消費者調査や様々なマーケティング施策を通じて、常に市場から学んでいます。私たちは、最高の保険体験を提供するために、デジタルソリューションを常に進化させています。
To find out more, visit ReMark's website here.