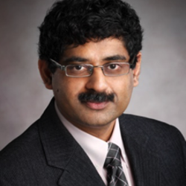 Bala Chandrasekaran
Managing Director & Chief Digital Officer
,
Marsh
Singapore
Bala currently leads the Digital Practice for Marsh McLennan in Asia. His focus is on the digital experiences of his colleagues, clients and ecosystem partners. He has been in the Risk Management and Insurance consulting space ;playing a wide spectrum of roles; in an international career spanning 25+ years and has worked worldwide with a diverse group of regional and multinational companies across several Industries,
Bala is an Angel investor and active member of start-up and incubation hubs based out of Singapore & India where he mentors early stage technology ventures and assists entrepreneurs in their efforts at business planning and risk management. He also teaches several Risk and Management related modules to business professionals at the Asian Risk Management Institute. He is actively involved in the build out of Claystation.in art studios as a social enterprise which has helped create the entire ecosystem for ceramic art to be a possibility in India.
Bala holds a Master's in Engineering from the Indian Institute of Science, an MBA from the National university of Singapore (NUS) and an Enterprise Risk Management Diploma from the NUS-ARIMI
His current areas of interest include Customer Experience Design, Sense Making, Cyber Risks, Data Analytics and Digital Transformation.