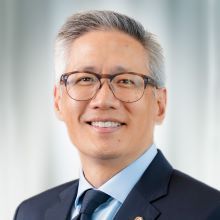 Chris Wei
Chief Client & Innovation Officer
,
Sunlife
Singapore
Chris Wei is Sun Life's Executive Vice-President and Chief Client and Innovation Officer (CCIO) and a member of its Executive Team.
Chris is responsible for leading the company's commitment to Client experience excellence. He leads Sun Life's strategic areas that are critical to the company's commitment to Client including Global Marketing, Sustainability and Corporate Communications. When combined, these areas will aim to strategically position Sun Life as a sustainability-driven, Client-centered and people-first global brand.
He is also responsible for identifying and cultivating innovative solutions focused on achieving our Purpose of helping our Clients achieve lifetime financial security and live healthier lives, including measuring how we deliver on our Purpose, whilst maximizing Sun Life's impact to foster a sustainable society and healthier planet.
Chris has more than 25 years of global leadership experience in insurance and wealth management. He has worked with several well-known and well-respected brands in the financial services industry in London, Hong Kong, Singapore and Canada. He combines business acumen with digital expertise to help organizations drive a digital vision and strategy.
Originally from Toronto, Chris holds an Honours Bachelor of Science degree from the University of Toronto with a specialization in Actuarial Science. He is an Associate of the Casualty Actuarial Society (A.C.A.S) and a member of the American Academy of Actuaries (MA.A.A.). Chris is based in Singapore.