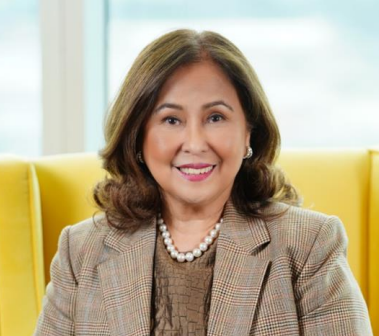 Nina D. Aguas
Executive Chairperson
,
The Insular Life Assurance Company (InLife)
Nina D. Aguas is the Executive Chairperson of The Insular Life Assurance Company (InLife), the first woman to hold such top position. She drives the biggest and largest Philippine life insurance company in revitalizing its ways with the evolving market and future proofing itself, poised to be a force for good for the Filipino families today and tomorrow.

Recognized in March 2023 by the Philippine Daily Inquirer as one of the awardees of Women of Power and in 2019 by the illustrious Forbes Magazine as one of the 25 Asia Power Businesswomen in 2019, Nina belongs to a select group of women who are breaking down barriers and shaping Asia's business landscape. In September 2020 Business Insider Australia cited her as one of the 100 People Transforming Business in Asia.
Nina served as a member of the Advisory Council for Gender and Development by the World Bank Group in 2018-2021 where she worked to progress women agenda in the global and local stage. Nina has her sights set on lifting other women through her advocacy the InLife Sheroes Movement. In December 2021, Citi conferred an award to Nina as Distinguished Alumni for Leadership and Ingenuity.

Nina is a business leader with over 35 years in retail, wealth, investments, and private banking. She managed global and regional and country level businesses and operations in large international companies in developed and emerging markets in the Asia-Pacific and the US.