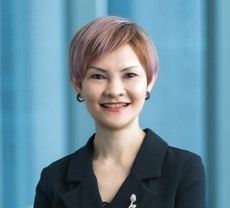 SiewChoi YAU
Independent Director & Insurance Business Innovation Leader, Asia Pacific
SiewChoi is a seasoned financial services leader with a three-decade career focused on (re)insurance within the Asia Pacific. Renowned for her innovative growth strategies and consistent delivery of long-term success, she excels in driving transformative initiatives and setting new industry benchmarks within regulated environments.
With pivotal roles at industry giants such as AXA, AIG, and Swiss Re, SiewChoi brings extensive expertise in portfolio underwriting, pricing, analytics, data-driven platforms, digital products, and distribution management. Working across Malaysia, Singapore, and Thailand, she has led culturally diverse teams across ten countries. Her commitment to innovation, mentorship, and inclusivity has been a hallmark of her career. SiewChoi is known for her dynamic and vibrant energy, infusing her work with a proactive, adaptable approach and a creative flair for challenging the status quo.
As a Board Advisor to insurtechs, she continues to shape the industry's digital evolution. Her active involvement in board committees for charities and non-profits, along with her dedication to mentoring undergraduates, highlights her passion for community service. Recently appointed as an Independent Director at Newcastle Australia Institute of Higher Education (NAIHE), she leverages her diverse expertise to contribute to the board.